Facebook Explore Feed – Our experience and opinion on what it means for brands.

Many of you will be aware that Facebook have been working on a new way to display their news feed for a while now. There have been many rumours and a few official announcements on what has settled as the Facebook Explore Feed.
Essentially, Explore Feed is a new content delivery method which separates Facebook users' friends' posts from posts by pages into separate feeds, with the main feed being just posts from your friends, and of course, some paid advertising content.
The Explore Feed has been trialling in six counties, Sri Lanka, Bolivia, Slovakia, Serbia, Guatemala, and Cambodia. We were in Sri Lanka earlier this year and got to experience both our desktop and mobile Facebook access switch to the Explore feed test versions.
So, what is the verdict? Many marketers have been fearing the roll-out, seeing it as the end of organic social media marketing, with reports of 60% drops in reach figures. They may be right and they may be wrong, depending on brands' approach to engaging their customers. One thing was for sure, we liked it!
The Explore Feed Experience
On a mobile device, the Explore Feed is the second of five icons at the base of your screen, making it easy to select and scroll through: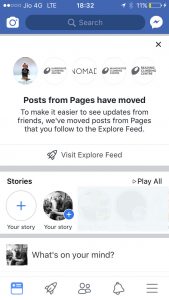 On the desktop, it's found in the left side menu, which is arguably less obvious.
In fact, 99% of Facebook users already have the Explore feed in a slightly watered-down form. How many have actually ever clicked on that icon? Thankfully, in the test, it had been promoted from the depths of the menu to the second icon in the list, highlighting its importance to users' Facebook browsing experience: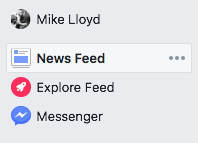 With Explore feed active, the default feed is just posts from your friends, with a sponsored post every so often. From our point of view, the adverts were less annoying, and the feed was reminiscent of Facebook in its early days; a really easy way to see what your friends have been doing and interact, without the distraction of commercial posts competing for your attention.
The Explore Feed itself is a mixture of posts from pages you follow, and 'Popular on Facebook' posts, as you will have seen anyway over the last six months as part of the research Facebook is conducting before committing to Explore Feed. One thing we did as a result was unfollow any pages we followed a while back that are no longer of interest, pages that don't produce content that is really engaging, or only post overly sales-driven content.
This stands out more on a dedicated feed than it did mixed in with friends' posts and sponsored adverts. We also like to pick out news from legitimate publishers and industry press as part of our feed; having the separation between friends' news and brand, school, press and charity posts was quite welcome, over switching attention from one to the other in a single stream.
Is Explore Feed Likely to Happen?
Facebook have not confirmed whether the Explore Feed will roll out in its test form, a different form, or indeed at all, stating:
"The goal of this test is to understand if people prefer to have separate places for personal and public content. We will hear what people say about the experience to understand if it's an idea worth pursuing any further. There is no current plan to roll this out beyond these test countries"
It's been suggested that Facebook won't be able to roll out Explore Feed even if they wanted to. Having to appeal to all their users, there is a school of thought that says commercial users simply won't stand for being relegated to a secondary feed with the associated loss of impressions and reach.
In reality, it's much more likely that the trial has produced a positive response from end-users in the trial countries; Facebook may just be brave enough (and have positive advertising sales data) to support the move, based on end-users' positive feedback. With a similar model already in place on Facebook-owned Instagram, it may not be the risk for Facebook that many are suggesting.
What Does Explore Feed Mean for Facebook Marketing?
Firstly, there's no doubt that your page's posts will see fewer impressions on Explore Feed, it's just a simple fact that as they're not in Facebook users' main feed, they won't be 'seen' as often. Before we all panic, what does it mean to be 'seen'? We all know that engagement is the metric that matters when it comes to social media. Our own reaction, in terms of unfollowing old and uninteresting pages may well be typical following the roll-out. Content could be much more closely scrutinised, and any pages which fail to appeal to users are more likely, in our opinion, to be un-liked or unfollowed.
This is likely to be of benefit to anyone who has consistently worked to produce relevant, interesting and engaging content that reflects their brand values. If your content is fresh, lively and interesting, it will stand out from the crowd, now that the crowd are all other brands trying to compete for your customers' attention.
Much of the discussion about Explore Feed up to this point has been around how terrible it is to lose reach, rather than to promote good practice and creative content which excites both potential and existing customers. In much the same way as Search Engine Optimisation had to grow up, as Google changed its algorithms to punish keyword stuffing and other negative practices; any websites that had been following best practice suddenly saw huge gains; Facebook marketing may be about to see the same rewards for creative publishers. This is not to say we have all been cheating our customers on Facebook, but perhaps should see the change as an opportunity which will reward creative and innovative brands, whilst improving the Facebook experience for our customers into the deal.
Will paid advertising become more important after Explore Feed?
The cynical view is that Explore Feed will certainly free up users' main feeds for a little more paid advertising content!
Reports from publishers in the test countries tentatively suggest that promoting your content also has a very positive effect on organic reach. Facebook have stated that 'there is no current plan to charge pages on Facebook to pay for all their distribution in News Feed or Explore', but it is concerning that with such a noticeable effect, it may be harder to ignore the benefits of paid promotions on the Facebook platform.
If your business directly depends on click-thru from your social media content, rather than brand awareness or information/news provision, then paid promotion is likely to be unavoidable post-Explore Feed.
Conclusions
It would be foolish not to prepare for the effects of a full roll-out of Explore Feed. With the almost certain loss of organic reach, brands, publishers and anyone working in the digital marketing industry need to have a strategy in place to compensate for the potential loss of exposure and traffic.
Whilst Facebook have not confirmed the global roll-out of Explore Feed, we could all use this as an opportunity to review the quality of our content. Who are our customers? What do they want to see from us? There is no single answer to these questions which we can apply to every brand publishing in the digital world; each brand must understand this for themselves.
Facebook is a wonderful tool when it comes to monitoring how much our customers enjoy the content we publish for them; the metrics Facebook provide, for free, are a huge benefit to our businesses, whilst allowing us to provide relevant content which in turn, keeps Facebook users engaged, rewarding Facebook. Much like the SEO example we saw earlier, perhaps the Explore Feed frenzy is a wake-up call to examine our content, and as with Google, if we produce quality content, we will be rewarded over and above those who cut corners, or take a completely inward, profit over quality approach.
Having experienced the Explore Feed first hand and in advising our own clients, we will leave you with the following few thoughts, we hope this little opinion-piece has been of some use, even if just to start a positive discussion:
Facebook are testing to ensure that users engage with the Explore Feed before general release. To release it without engagement would make no commercial sense for Facebook.
The addition of popular posts is indented to entice users to use the Explore Feed, as an additional benefit to reading subscribed posts, whilst also aiming to burst users' 'filter bubble'.
Mobile content is likely to be more successful due to the ease of navigation between the feeds, which only adds to the importance of mobile content in our digital marketing mix.
In our opinion, users are more likely to unfollow content creators they find less engaging on Explore Feed.
Paid advertising will become more relevant for commercial brands. Used wisely it could also be used to promote a brand's organic content.
More savvy use of offers, check-ins and cross-channel campaigns, if not already utilised should be used to push organic reach through user-interaction.
---
Further Reading