Ladies and Gentlemen, gather round, settle in, as the story continues from Mumbai to Panjim! Over 17 hours and covering difficult terrain, our journey begins on the overnight train.
The departures to Goa are daily, of which there are two, 7am or 11pm it was easy to choose. The evening train gave us somewhere to sleep for the night and meant reaching our destination by the morning light. Tickets were quite expensive, over 2000 Rupees, but as we're not so young now, comfort's a greater need. We pre-booked at the station a few days in advance, This train can be busy, so don't leave it to chance.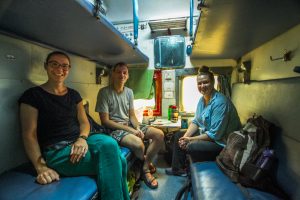 Our carriage was shared with other travellers, two, who were exploring from Belgium on their honeymoon. Four padded bunks with space for bags under, meant we weren't falling over, causing each other a blunder. An adequate space with a table and view, to which we'd be treated as the daylight grew. Kindly provided were pillow, blanket and sheets, which all made for a rather comfy nights sleep. Our journey was pleasant and although I'd been scared, even the toilets were something not to be feared. We were woken for breakfast at 8.30am, when the plan for all onward travelling began.
We departed the train at a station named Thivim, a few hours late but this is always a given. To the bus stop we walked, just 10 mins away, where after an hour waiting, the right bus came to play. Crowded and squashed, with only room to stand, it cost 40Rs so have some change to hand! Beautiful scenery sped into view and seats soon became available, if only a few. 40mins later we jumped off at our stop, to our Air Bnb, a long walk it was not.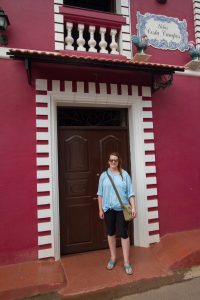 Heena and Farooq our hosts for the week, couldn't have been kinder, staying there was a treat. Porvorim now our home for the next couple days, with easy access to the city in a number of ways. Buses one way only 8Rs each, Auto-rickshaw more expensive, 200Rs; the cheek! But a mere 10 minutes travelling (if that)  and you're into the city, with multi-coloured houses and lanterns, so pretty! Panjim has strong influences from the Portuguese rule. Their churches, religion, coloured houses and food.
So different from Mumbai, but hopefully just as fun. our exploration of this city had just begun. The first thing I notice was the relaxed atmosphere, fewer people, wider streets and the air here was clear(er). Stall sellers, waiters and taxi drivers too, gave advice and directions when we didn't have a clue. Even if what we wanted, was not from them, help was offered time and again.  If we didn't want to buy something, politely declined and said no, the sellers replied with "maybe tomorrow".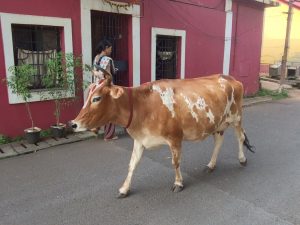 Now the people that know me, I'm sure they'll agree, that when it comes to food I'm basically a puppy! I need feeding often, I love all kinds of treats and Panjim didn't disappoint with its fab range of eats. The best place we ate was Mum's Kitchen for sure, authentic, traditional Goan recipes, I want more! The Panjim Inn was quite expensive but worth it. Really good food and exceptional service. Viva Panjim! A friendly Goan restaurant who, make a delicious and very traditional Vindaloo! Bottlejacks was just around the corner from home and is another restaurant name that needs be known. A menu with a strong European fusion, all presented beautifully almost in an illusion. Bombay Coffee Roasters a trendy place like back in the UK, delicious coffee, juices, teas you could almost pretend you've not been away.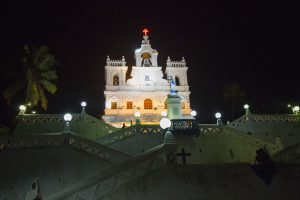 I don't just like to eat, I also like to explore, and find things that I've never seen before. Panjim has many cultural delights, like the Church of Our Lady of the Immaculate Conception, lit up at night. Old Goa, so easy, just a short bus ride away and a lovely, almost peaceful way to spend a day. Many Churches, Viceroys Archway and St Catherine's Cathedral, busy with the worship of its devoted people. Walking around St Augustine's tower and Basilica Bom Jesus, so much to see and so much to please us. A popular beach, clean and hot. Miramar, full of jellyfish so swimming was a NOT!
Goa is beautiful; Colours, patterns, prints so bright, with Diwali lights and lanterns lighting up the night.
Our next journey takes us southward to Patnem for birthday cheer, what better way to celebrate than with hammocks, beaches & beer!
---
The Ws – Panjim, Goa Fact File
WHO we stayed with: Farooq & Heena in their lovely top-floor AirB&B apartment in Porvorim.
WHAT we did:
Church of Our Lady of the Immaculate Conception
Old Goa
Fontinhas area (Old Quarter)
Miramar Beach
WHERE we ate: 
Mum's Kitchen – Specialising in cuisine from across the state, all traditional Mothers' recipes.
Panjim Inn – Breezy verandah in a beautifully restored Portuguese-era townhouse (also has rooms).
Viva Panjim! – A Panjim institution, started in a lady's front room, the restaurant is tucked away in a pretty alley, and has inside and outside seating. Excellent selection of authentic Goan cuisine.
Bottlejacks – Trendy new-build restaurant in Porvorim. The menu is a European-influenced take on Asian food, plus a selection of Italian and French dishes.
Bombay Coffee Roasters – Hipster coffee house at it's finest! Perfect for anyone missing their espresso fix. The cold coffee is highly recommended on a hot day too.
WHEN: October 14th – 21st. The best time to visit is between October- March as the weather is not too hot & humid. Monsoon season runs from June-September, so best avoided.
WHY: To begin our Goa stay in the state capital, with its heavy Portuguese influence and to explore the impressive architecture of Old Goa.