Wow! What an introduction to India. Thrown in at the deep end and well and truely engulfed by the city.
Mumbai was always going to be the starting point on our adventure as a sink or swim experience. A baptism of fire into cultures and beliefs that were very different to anything I had ever experienced before and a world away from what I was used to back home. If we could hack it here, everywhere else we had planned was going to be a breeze. Thankfully we kept our heads above the water and learnt to swim in the swell of Mumbai.
Mumbai is estimated to be host to 23 million people, making it the world's second most densely populated city; as you can imagine, it is an exceptionally busy place to be! The other element adding to the buzzing activity of the city is the traffic. This really needs a whole blog to itself but imagine pedestrians, huge wooden carts laden with goods being pushed by hand, bicycles, mopeds, motorbikes, auto rickshaws, cars, taxis, vans, trucks, buses & ambulances all on the road at the same time, competing for space, fighting for access and right of way, communicating with hisses, shouts, bells, horns and sirens; this gives you an idea of the chaos and the soundtrack to Mumbai. The noise level may quieten but it is never, ever quiet.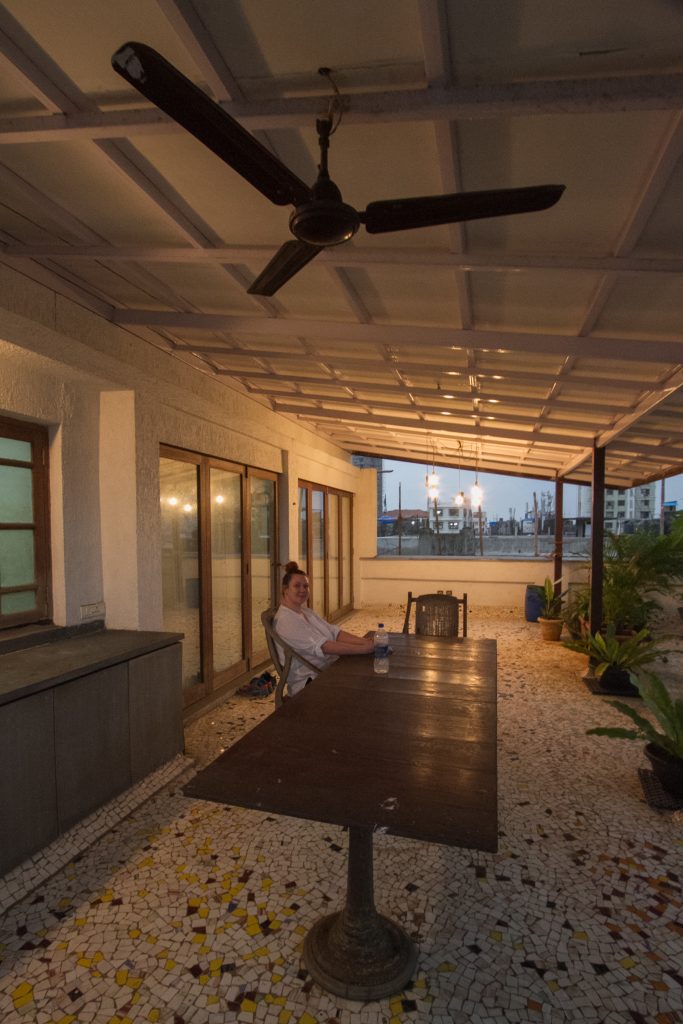 We stayed in a fantastic apartment on Mohammed Ali Road which we had booked through Air BnB before we left and it was perfect! Clean and cool (air conditioning was a huge bonus) with a comfy double bed, books about the area and a few local menu ideas. The bathroom had a large hot water shower, western style toilet and there were complimentary toiletries. We also had good wifi and an amazing rooftop terrace full of plants and flowers, all to ourselves. This is where we spent many evenings watching hazy colour-changing skies and fantastic thunderstorms! Kishor, our host, was lovely, so polite and friendly and always there if we needed anything. He brought us bottled water and bananas when we first checked in which was a wonderful gift for two tired travellers. The room was cleaned every other day (upon our request, it would have been done every day but we didn't feel this was needed) and all the residents that we met in the building were friendly, though they weren't used to seeing tourists. Muhammed Ali road is in a mainly Muslim area, about 5 minutes walk from the Crawford Markets but away from the main Tourist spots, offering a little break from the frequent touting, selling and begging that is common in Colaba and the other key tourist areas in the city.
Overall we are hoping to be in India for around six months, with trips dipping in and out along the way. There is so much to do and see here and it is such a big country, we know we won't get to do it all. We did, however, manage to cover quite a lot of south Mumbai (and a little in the north) in our five days there.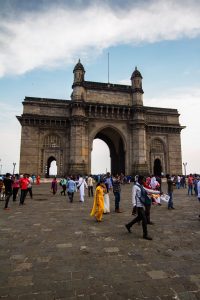 We started our tourist tour at the Gateway of India. The welcoming archway into the country built in 1924. The Gateway is free to enter and was buzzing with Indian families, groups of friends, sellers of postcards, tour guides and photographers who will take your picture in front of the monument before printing it out for you there and then. We had a lot of photographs taken, but not from the professionals. Groups of girls and gangs of boys, families with tiny children, middle-aged men, all wanted a picture with us, the (very) white tourists. We were happy to oblige and people were delighted, shook our hands, introduced themselves and welcomed us to India. It was very pleasant but surreal and happened in a lot of places we visited. We were always happy to stand with people when they asked but occasionally it was a little uncomfortable when people took pictures (mainly selfies) without even talking to you. We figured it was photography karma for all the pictures we take of people on our travels, but it is something to note. I tended to just smile (in a selfie I can see if you're trying to get me in it!) and then they would stop or ask when they realised that we knew.
From the Gateway, we took a taxi to Chowpatty beach, on the west side of Mumbai. It is a place for friends and families to gather and spend some time after work or school and is a relaxing place to just stop. Chowpatty is definitely not a swimming or sunbathing beach but a nice place to see some of the ways in which Mumbai is modernising, with views of the skyline stretching out around the bay. At the entrance to the beach, there is a monument to Tukaram Omble, the incredibly brave policeman who died whilst arresting of one of the terrorist attackers who struck Mumbai in 2008.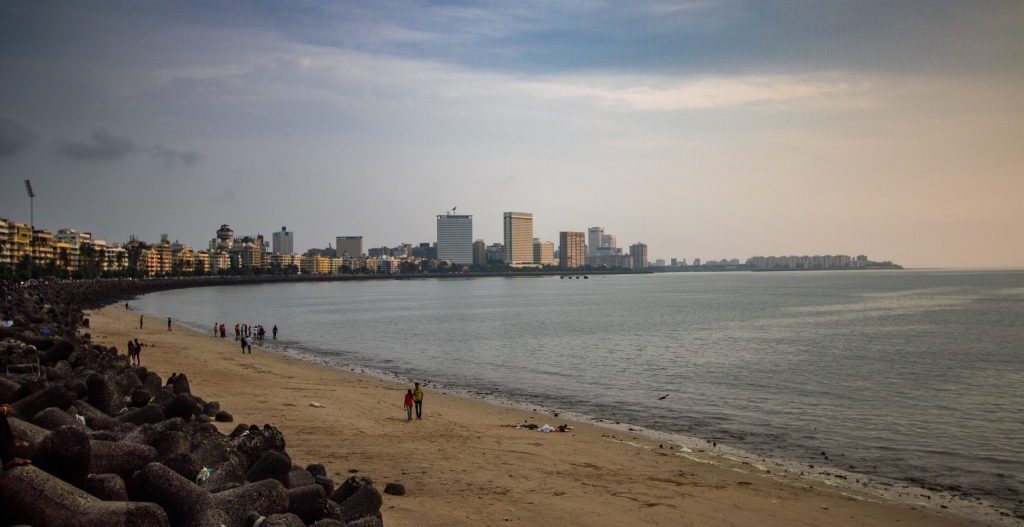 Just south from the beach is Marine Drive, the promenade known as the "Queens necklace". Not too much to do here but join the families, groups of friends and (fairly liberally for India) young couples, for a walk, admire the views and take some time out from the madness further within the city.
The days were hot and humid during our stay, often over 30°c and so at the hottest part of the day, we would seek shelter from the sun. On one particularly hot lunchtime, we had been walking down from the beautiful Chhatrapati Shivaji Terminus (Victoria train station) and found ourselves at noon in the blazing sunshine and needing a break from the heat. We just so happened to be outside the National Gallery of Modern Art and so jumped in for a spot of culture and air conditioning. It cost 500 Rupees each (Tourist fee!) but we managed to see the last day of a fabulous retrospective over three floors displaying the works of Jitendra Arya, a famous Indian portrait photographer whose work spans from the 50s to the 90s. The building itself was also very interesting with wide spiralling staircases and gently, curved walls. Ironically, no photography was allowed in the exhibition!
The next day we headed to Crawford Market, just down the road from where we were staying. A covered market, dealing in all the delicacies you could hope and dream to see. Mountains of fresh fruit and veg, nuts and spices, oils, textiles and clothing. We first approached the Market from a side entrance but were ushered to the front gate by a guide who explained that tourists must have a guide with them during their visit to the markets, for their safety. We were unsure at first, usually wise to such scams, but it all seemed legitimate and our guide was friendly and informative so we agreed to go with him. Then it all changed; he guided us quickly through the stalls stopping once to explain a what few different types of fruit were or how the market was laid out before we were brought to a spice merchant where we got to smell an incredible array of spices and mixes. You really could tell the difference in the ingredients of each batch and had we only been staying a short while I'm sure we would have taken more home with us. However, carrying spices around with you for six months and not being able to use them would have been pointless. We were obviously expected to buy something so we purchased some Masala Chai to go in our tea as this is something we could use and enjoy on our travels. The Masala Chai plus two packets of tea was costed at 800 Rupees, which doesn't seem like much to some, but that was a days allowance for us! We managed to haggle down to 350 rupees for just the Chai but it left a sour taste on the experience. Our 'guide' then marched us through the rest of the winding corridors of the market and told us the tour was over and that we could now go on our way without a guide once we had paid his fee which was "normally 250 Rupees"! Again this doesn't sound like much but in the context of our budget and for the tour we had received, we were really disappointed and left the market feeling harassed and poor.  For future reference, you do not have to have a guide and there are entrances through the side doors if you want to experience the market on your own.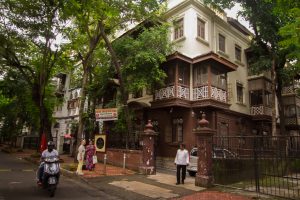 That afternoon we decided to go somewhere more uplifting after the disappointment of the market and so navigated our way through the bustling streets to Mani Bhavan, Gandhi's Mumbai home between 1917 and 1934. The house-turned-memorial was a delightful collection of books, artwork, letters, models, statues and photographs of India's former leader. It was free entry but does ask for donations for maintaining the residence.
Navigating to and from Mani Bhavan we got to experience some of the real Mumbai and the contrasts within this city. Narrow streets containing the remnants of markets and building materials hold houses in need of repair,  but these same houses are decorated with beautifully detailed and brightly coloured clothing, drying along the balconies.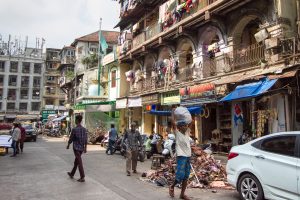 The constant noise and mayhem of the traffic whizzing up and down the roads outside is interrupted by tranquil temples full of song and praise.  Huge modern, branded, well-designed skyscrapers shadow tiny slum houses made of whatever can be found and house entire families together. The clashing of the rich and poor is seen throughout Mumbai and there is a real focus on class and your role within society. It is common for people to ask about your job and your families when they first meet you so they can decide how to place you and how to treat you accordingly. It may come across as very forward but it is not meant personally. Being a white tourist people presumed we were on holiday and had a lot of money to spend, which compared to the average wage of India, we do. Explaining that we are travelling for a long time and don't have a lot of money to spend was a delicate procedure. Trying to get a reasonable deal whilst not being insulting and also being honest that we don't need any more "things" to carry around with us for the next 18 months became a part of our daily regime.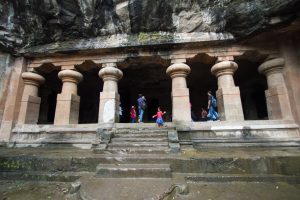 As a little day trip out of Mumbai, we took a boat to Elephanta Island. The boat ride takes an hour each way and tours leave regularly from 9.30am. A return ticket cost 180 Rupees each and the last boat back is at 5.30pm. To avoid walking around at the hottest part of the day we set off at 2.30pm arriving on the island at 3.30pm, giving us two hours to walk up the many steps (over a hundred but I lost count) and around the Hindu caves. We achieved this in a fairly speedy manner but if you have more time, I would recommend it. We paid the tourist price of 500 Rupees each to enter the caves plus 5 Rupees each tourist tax. It was a fairly expensive day out but it was a nice break from the city and boat ride was really peaceful. We were offered many guides, ranging from 300-600 Rupees, but you don't necessarily need one. There is a guidebook available for 150 Rupees which gives you lots of information about the cave carvings and the history but it depends on what type of tour you are looking for. We entertained ourselves taking pictures, watching the monkeys and walking around quite happily on our own.
Towards the end of our time in Mumbai, we decided to get a driver. We had joined the dots on most of the sights that were close together but there were still a few places on the list which were more difficult to reach on our own. We headed down to the train station where we had been pleasantly approached twice now by a very friendly gentleman selling his tours of Mumbai. He had excellent English and had lived in the city for a long time so knew a lot of inside stories to share with us. As we had done a lot on the list we settled for a slightly cheaper price of 2000 Rupees to see the sights still remaining. This included Dhobi Ghats, The Hanging Gardens and the Towers of Silence. We covered a lot of ground and got some insights into the lifestyle of Mumbai as we drove around with Bali.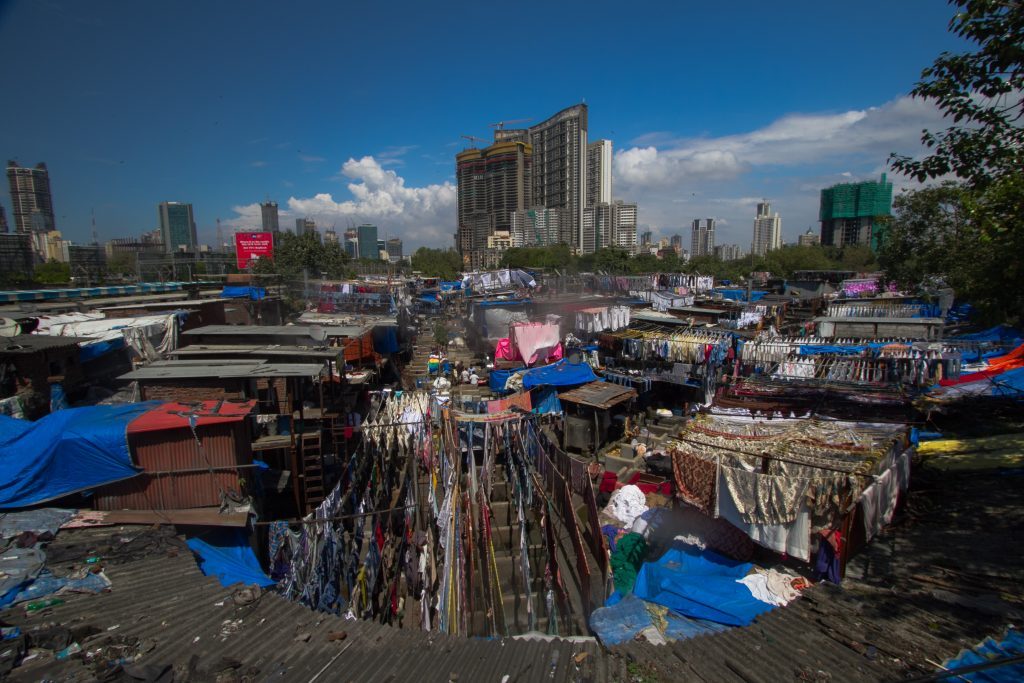 Dhobi Ghats was an excellent experience. Laundry from all across Mumbai is brought here and washed by hand in huge concrete vats. This interesting article from the Times explains some of the challenges faced by the dhobi with redevelopment pending and the advent of commercial washing machines, but also how the laundry is the real washing force behind most of the city's commercial 'laundries'.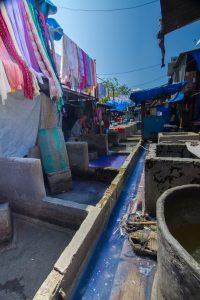 The most impressive fact though is that despite washing over 100,000 items of clothing every day, not one item has ever been lost in the process!
We pulled up outside and were able to take pictures looking out over the whole area but we wanted to get inside to take some more intimate photos. This cost us 200 Rupees each (100 Rupees if you don't want to take photos) and the money goes directly to the people working and living in the area. As we walked around we were able to see all the processes from washing to drying to ironing and chat to the people working so hard in the heat. We were respectful and asked if its okay to take the pictures as the area has people's homes and families within their workspace, but we got some amazing shots full of colour and personality.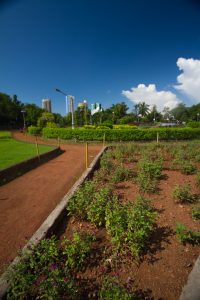 The Hanging Garden was a refreshing break from the heat of the afternoon and from the industrialisation of the city. A large, well kept public garden, with luscious green grass, beautiful bright orchids and flowers, butterflies and bees buzzing, benches and monuments dotted around. We took a gentle stroll around, soaking up the relaxing atmosphere and got chatting to some of the locals.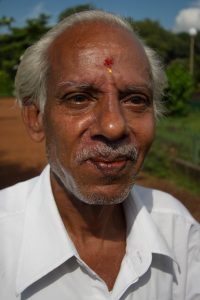 A lovely older man called Pushpat came up to us and asked about where we were from, how long we were travelling and where we were going. He then gave us some handwritten and beautifully decorated travel advice for Mumbai and Rajasthan. He asked us to take a photo with him and post it to him upon our return to England, along with some English money, for his "Memories". It was an absolute pleasure to meet him and it was nice for me to be spoken to directly rather than through Mike, which is the cultural norm here. After Pushpat had left us wandering through the garden we were spotted by a group of school children who politely said hello and began asking us all manner of questions like where were we from? What sport did we play there? What currency did we use? How many rupees to a pound? What is England? Who was my best friend (then they all showed us who their best friends were)?. Lastly, and luckily, for me, the longest conversation was about which WWE superstars did I like? The list went on and they were very excited by this.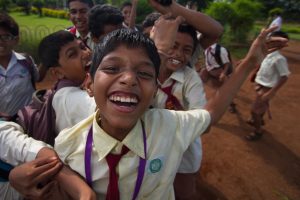 Then they noticed Mike's camera and asked him to take pictures of them. They were posing and grabbing their friends and jumping on one another shouting "Hello Uncle" at Mike. They followed us around the rest of the gardens until Bali came to bring us back to the car. The kids all shouted goodbye and waved madly from the top of the steps as we left. this was Probably my favourite part of our Mumbai trip, meeting those boys and being drawn in by their enthusiasm and excitement.
After the whirlwind of the gardens, we took a sombre moment to stop outside the Towers of Silence. This is a secret place where the Parsi community lay their dead. No one outside this religion may enter so we stayed outside and listened to the explanation from Bali. The Parsi do not believe in the pollution of the four elements so instead of being buried or cremated they lay the deceased on an open-topped tower, covered in curd for the vultures and animals to clean the bones. These bones are then placed in a sacred ossuary in the centre of the tower. Needless today it was not a sightseeing tour but still an interesting event to stop and learn about and something very different to back home.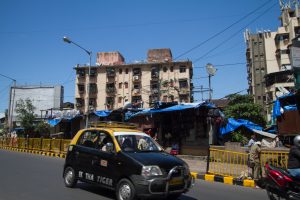 As we had had such good Tour with Balli he offered us a "special" rate to go up to a national park to see some caves and a Lion and Tiger inclosure on our last day. We agreed and for another 2000 Rupees for the day we headed North to Sanjay Gandhi National Park. We checked out of our room at 9am and headed to the train station first. They have a secure stored luggage room for just 15 Rupees a day but you must have locks on each bag (we used zip ties as we didn't have a lock for all the zips on our backpacks) and put them through the X-ray machine. Don't forget to get your sticker once it's gone through as no bags are allowed on the train (or in the secure room) without a sticker! It was an exceptionally hot day and a very long ride to the national park. Bali explained points of interest on the way and pointed out day to day things we might not have spotted otherwise. We drove past the Dharavi Slum where Slum-Dog Millionaire was filmed. Dharavi is home to around 1 million people, with an estimated 150 people share a  single toilet. I was pleased that we drove by as I was unsure how I would feel about such poverty and being taken around and shown it personally. There are tours where you can go in and see the slums in detail but the ethics of these are somewhat in doubt and that was not something I was comfortable with.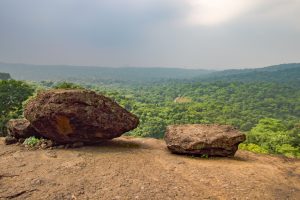 We arrived at the national park at 1pm and parked around the side. To reduce pollution near the park taxis are not allowed in. This does seem slightly pointless as there is a main road right outside the entrance and cars and bikes are allowed in but still, it was nice to get out of the car. Entrance to the park was 15 Rupees per person and we paid for Bali to come with us. Once in, it was a quick walk up to bag check then into a shared taxi up to the caves. We paid 50 Rupees each with 3 other people in the van too, so negotiate your price before you get in! Balli explained that the caves were the most important part of the park and the most striking so we headed there first.  It was a short journey up in the van but it would have been a very long (7km) walk so I would definitely recommend getting a ride up. To get into the caves cost us another 200 Rupees each (Bali stayed with the van) but it was a beautiful walk around an exceptionally peaceful place.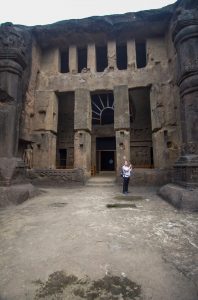 There were 20+ caves of varying size and structure, some filled with beautiful ruins and carvings, some small openings facing a mass of greenery. Sadly we were given a time limit of 40 minutes by Bali (we stayed a bit longer anyway) but we could have spent much longer walking around as we only got to really see the first 10 caves. As we headed back Bali suggested that we leave the tiger & lions for a better park as there it was "a bit sad", they are cooped up in small cages and not very well cared for. He said there were better places in India to see the wildlife so we should head back. We didn't feel like we really had a say in this matter so we got back in the taxi and headed home. By this point, traffic was getting really busy. It was Friday, it was home time and so we spent the rest of the afternoon (over 2 and a half hours)  sat in a taxi in traffic. It wasn't the best last day and did put a bit of a dampener on the end of our tour but it was nice to get to see part of Mumbai we hadn't been too and to see some greenery! Bali dropped us off near the Gateway so we could find something to eat and kill some of the 6 hours before we got the night train to Goa.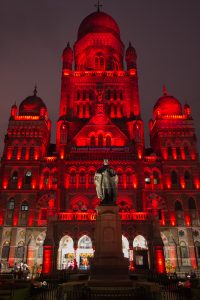 We took pictures of the places we hadn't yet (Victoria Terminus train station gets lit up in pretty lights at night and the town hall opposite had colour changing lights keeping in time to music) and generally worked our way back up to the train station to get ready to go.
We reflected on some of the highlights and some of the things we were still getting used to (staring; a LOT of staring) and I was pleasantly surprised with myself that I had enjoyed my time in Mumbai. We stayed for five days but you definitely don't need that long; much of what we did could be done in two or three days with a taxi or guide. However, by walking around, seeing the side streets, the back roads and the slums we felt that we got to see something of a real side of the city, not just the tourist spots, and that's what I enjoyed most.
I knew that Mumbai would be challenging, and it was, but I'm so pleased we went and started our trip here. Onwards now to Goa for a slower pace and hopefully a beer or two!
---
The Ws – Mumbai Fact-File
WHO we stayed with: This beautiful apartment is owned by Naheed but we were looked after by Kishor during our stay.
WHAT we did:
WHERE we ate: Ruhani: Delicious food (especially tandoor), friendly staff and very reasonable price.
Patel Restaurant: Good food, friendly staff, good price, air conditioning upstairs.
Papaya: Incredible Sushi, expensive but was in an upmarket restaurant in a rich area, air conditioning, music and excellent service.
The Pantry: lovely little Internet cafe with a European feel, good food, higher end prices, air conditioning.
WHEN: October 7th-13th  The best time to visit is between October- March as the weather is not too hot & humid. Monsoon season runs from June-September, so best avoided.
WHY: To start our trip in a baptism of fire. Mumbai has to be experienced to be believed!