In Goa there's a place called Patnem, where we were looked after by two very nice men. At Casa Fiesta, our beach hut was the besta; we'd definitely go there again!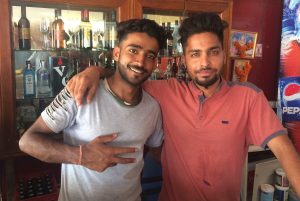 Ash and Sanju were so great, building rooms at an astonishing rate, whilst still serving fab food, always in a pleasant mood, working hard so the season didn't start late.
New hotels and shops opened up by the day, after the monsoon rains had swept them away. The beach rebuilds for peak season, when tourists and travellers breeze in, so the town reappeared during our stay.
We hired a moped for a couple of days, to explore some of the more remote bays, but the police caught us out, pulled us off from our rout; note, the driver wears a helmet or pays!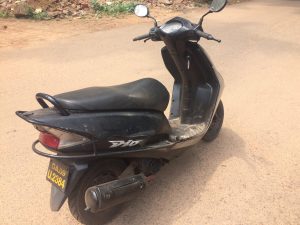 In Patnem there is no ATM, so we walked 'round the beach to Paolem. Through a little forest track, only a 15min hack & we could have money again.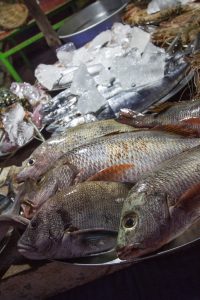 The food here so fresh and delish, red snapper, prawns, squid and kingfish; it comes straight from the boat, definitely gets my vote, it is certainly not something to miss!
The beaches were clean and water clear; lots of dogs, cows and horses live here. They wander around, make their way through the crowd, and they're friendly so there's nothing to fear.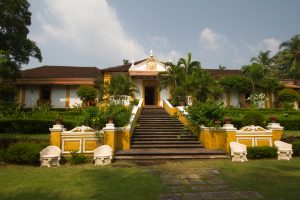 We enjoyed a relaxing beach week, with a few hidden treasures to seek, like a restored Dean's home, with gardens all over-grown, a bit of a trek, but different and worth a peek.
Now off to Gokarna we go, for stunning red sunsets that glow; such a beautiful beach, some secluded, hard to reach, but amazing for those in the know.
---
The Ws – Patnem Fact File
WHO we stayed with: Casa Fiesta at Patnem beach.
WHAT we did:
Walked along Patnem, Paolem, Rajbag and Agonda beaches. Patnem & Rajbag are the quieter beaches. Unfortunately, Rajbag is now home to a 5* resort, although it was still quiet and good to get away from the crowd whilst we were there. Paolem is the main party beach, and so the most happening place to be if that's what you're looking for. Patnem is somewhere in-between, with lots to cater for backpackers of all ages, yoga schools (I wouldn't go as far as saying ashrams), a more chilled-out approach to selling and lots of great food on offer. Agonda is a beautiful beach which was probably the most 'authentic' in the area; it is showing signs of becoming a package tourism destination though, so perhaps get there sooner rather than later if you're heading to Goa anytime soon!
Moped hire (Rs700 for 2 1⁄2 days from Paolem). We hired from Paolem as it is cheaper than the local option, but reputation has it that there are several scam operators. If in doubt, there is a bike hire place just as you get to the beach steps on the main 'road' through Patnem, who are known to be fully trust-worthy.
Palácio do Deåo, Quepem; Historic Dean's mansion with serene gardens. A 40min moped ride from Patnem/Paolem. Food can be provided if booked in advance.
Drink beers, sit by the sea, eat cinnamon birthday rolls and read in hammocks.
WHERE we ate: 
We tried a variety of local beach front restaurants. All had a similar variety of fresh fish, Indian, Mexican, Chinese and sandwiches available on their menus. Our favourites were Casa Fiesta & Sea Front. Some restaurants were not yet open as the season had not officially started. We also found another Bombay Coffee Roasters in Paolem (See Panjim) for anyone looking for a hipster coffee fix.
WHEN: October 21st – 28th. The peak season is Nov-Jan but the Beach is open and still running until April. Most of the resort was still being set up when we arrived; this meant the  beach was quiet during our stay however there were still quite a few people about.
WHY: To celebrate Mike's birthday and have some chill-out time one the beach.  Beers, beach, seafood, friendly people, whats not to like?!